Article by Charlie Hudson with South Dade News Leader, April 7, 2022
Thursday, March 31, 2022 was definitely a busy day for Miami-Dade County Public Schools (M-DCPS) Superintendent Dr. Jose L. Dotres who managed five back-to-back "Meet and Greet" sessions that began in Pinecrest.
District 9 School Board Member Luisa Santos planned the tour with the respective municipalities with the Homestead/Florida City stop at the Seminole Theatre.
Civic, business, and community leaders joined educators to have what was for many the first opportunity to hear from the man selected to head the fourth largest public school system in the country.
The South Dade Chamber of Commerce helped sponsor the event as the Homestead Senior High School Band played rousing music on stage and cheerleaders in the aisle greeted attendees moving from the lobby into the theatre.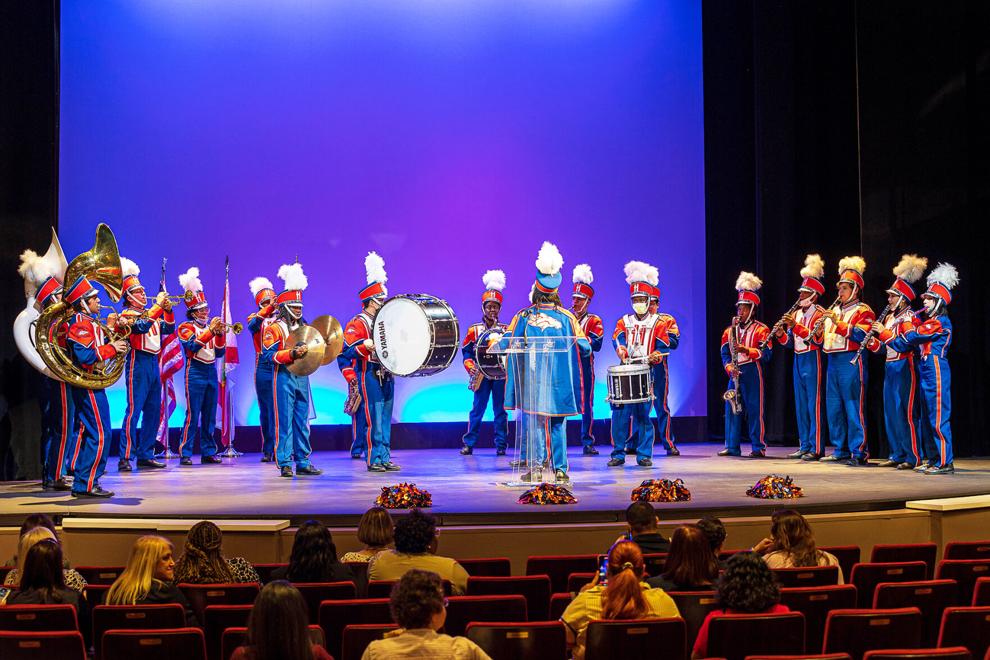 "This indicates a new focus on Homestead as the place to be with what is happening here and in Deep South Dade," Homestead Mayor Steven Losner said as part of his brief welcoming remarks.
"Three things make a city great; great schools, affordable housing, and public safety," Vice Mayor Julio Guzman included after thanking Santos for arranging the tour.
"As an educator myself, I know the next few years are going to be critical," Councilmember Jenifer Bailey commented, and highlighted special issues like infrastructure gaps, digital divides, and parents who often struggle for advocacy for their children. She acknowledged community organizations such as MUJER and En Familia, who work extensively with families.
Councilmember Erica Avila mentioned the Kiwanis International Student Service Leadership Programs (SLPs) which have programs from elementary school through high school and into college.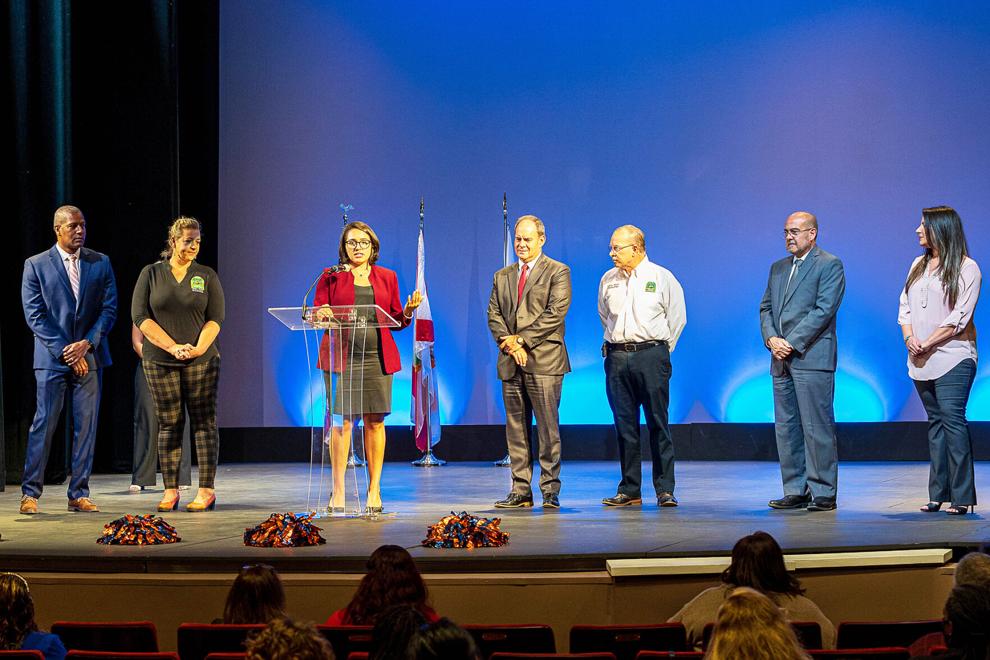 In a later discussion, Councilmember Larry Roth spoke to community non-profit efforts providing food to students to supplement shortages at home. This is a concern he will pass on to the District Office.
"I know how far we've come with our highest graduation rate ever of greater than ninety percent and the most school choice programs," were among District 9 School Board Member Santos remarks as she cited progress still needed with challenges like housing insecurity. She emphasized the importance of the involvement of cities, businesses, and non-profits in support of schools.
"With your partnership, growth is what is going to happen with all of you at the table." Her formal introduction of Dr. Dotres included pride in being one of the individuals who brought him back to Miami-Dade.
As the M-DCPS website shows in part, "At the age of five, he arrived in Miami, Florida – an immigrant boy from humble beginnings who enrolled in M-DCPS as an English Language Learner, graduated from high school, and began a long and rewarding career serving students, parents, employees, and the larger school community within the system that welcomed him as a child. Having held multiple instructional and administrative leadership roles over the course of his career in M-DCPS and other educational organizations, Dr. Dotres is a proven educator with a wealth of experience. He has served in the capacity of Teacher, Reading Coach, Principal, District Administrator, Regional Administrative Director, Region Superintendent, Assistant Superintendent, Chief Academic Officer of Broward County Public Schools, Chief of Staff, Chief Human Capital Officer, and most recently, Deputy Superintendent of Collier County Public Schools."
Early in his comments, the Superintendent said he was recently reminded of the phrase, "We have two ears and one mouth," and he is listening to communities to gain a better understanding of the areas he's not familiar with. He recounted how what was then Miami Dade Community College turned his life around with respect to academics. Even so, his initial career started at American Express, although he always knew he wanted to teach. His point was that our teachers come from different sources. In asking various groups in the audience to stand, he said, "Principals are the ones who truly create the optimal environment for students to learn."
A primary theme was M-DCPS has, "ventured into a new landscape", and there must be balance between academics and social and emotional support. Effects of COVID have been felt by everyone and resources are being added to bridge the gap of "unfinished learning".
One measure taken was the recent Spring Academy where many teachers voluntarily gave up their Spring Break to hold extra classes for designated students. Early literacy intervention is especially important because Kindergarten as well as first and second graders didn't receive the traditional level of instruction due to COVID disruptions.
On a note about older students, post-secondary education must include paths to good-paying jobs in technical and trades fields. These options enable graduates to go immediately to work with sustainable salaries and college can come later if they so choose.
Projecting the excellence of our schools is another goal. "We want our schools to be the parents' choice and to be the employer of choice."
With 41,000-plus employees, there are multiple roles for other than teachers. Understanding and attending to migrant children needs is something else he addressed as was special learning. In his experience, excellence in every student sometimes requires new approaches to bring out their potential.
After a standing ovation, he had time for a few questions and said his staff was taking notes to provide responses later. When asked about arts in school, his immediate reply was arts are critically important to balance with academics. MDCPS is committed to keeping arts programs alive and expanding them.